Welcome to the Lyveden New Bield website.
As a surviving Elizabethan garden lodge, still within its mostly undisturbed Elizabethan setting, Lyveden is unique. Together with the original garden layout, Lyveden provides a fascinating glimpse into the design and styles resulting from prosperous Elizabethan times. The lodge, in its mystical setting, was built to represent Sir Thomas Tresham's Catholic faith, a faith held during a Protestant's reign. Abandoned and incomplete, Lyveden remains today as a peaceful monument to the strength of one man's beliefs.
Set in 60 acres of woodland, wild flower meadows and open grassland, Lyveden lies in the heart of the medieval Royal Forest of Rockingham. These ancient hunting grounds provide an idyllic backdrop to Lyveden and contribute to the valuable wildlife of the area.
As you explore this website the history of the property is explained. Our recent work to uncover and preserve the Elizabethan garden can be discovered as well as details of the new BBC series Hidden Gardens that has been following our progress. Our news section provides an update of property related news and highlights any new developments.
We hope you have the chance to discover Lyveden New Bield and we look forward to welcoming you to the property.
Related Links
Click here for a detailed plan of the Lyveden New Bield property.
Click here for a map giving directions to Lyveden New Bield.
For more property details including opening times, admission prices and how to get here click here.
To view the National Trust events page for this property, click here.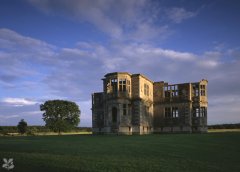 Three great reasons to visit Lyveden New Bield:

Celebrating 400 years of history
One of England's oldest garden layouts
A fascinating place to explore